On the 29th August – 1st September, I joined over 1000 other campers at Electromagnetic Field camp in Milton Keynes. Said field was equipped with mains power and high speed internet, which allowed them to host some great workshops, talks and demos including on site laser cutting! I camped with a few other UKHAS members in our "villiage" aptly named "HABVille"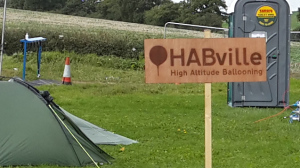 We ran a couple of launches, which had a pretty good turn out of interested people who arrived on time to watch. However with tradition the launches were vastly delayed as trackers were still being assembled and programmed.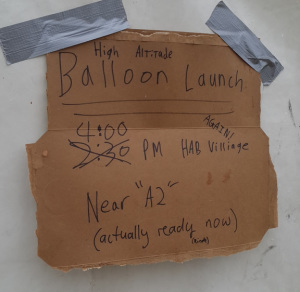 The first of these was one of my Cheapo boards on a foil balloon, which sadly didn't quite manage to enter a float, but did cross the channel. The second was a JOEY board running both Matt's TurboHAB and RTTY, a UKHASnet node, and Richard's Bristol University SEDS tracker. All 3 of these payloads were carefully strung under a 100g balloon and filled with all the helium we could get our hands on.
One of the other perks of the camp were the badges, which unfortunately weren't quite ready to hand out as soon as the gates opened. The radio network for delivering weather and schedule updates (an awesome idea) was pretty ropey too. But provided some excitement when someones badge started working on it.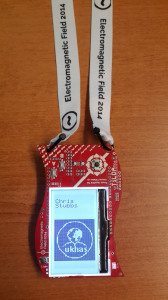 We also spent a bit of time down at The Grid, an interactive light installation put together by Adam Greig and David Turner. Which attracted a lot of attention when it sprung to life at night, with people drunkenly charging around in amazement as the poles lit up around them. Adam and David clearly put an awful lot of work into this project, which they discussed in their talk. I shot some footage on my unfortunately gimbal-less hex.
NottingHack brought along their BarBot, which happily served me an interesting concoction of alcohol.